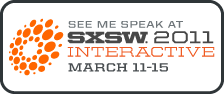 SXSW Interactive is here!
Very cool…
The panels/sessions are looking great, the parties and the get together… And the weather is perfect.
From the various cool panels, to the Monks of Invention, Mobile Future 15, to MobileMonday Austin and many others, hope to see you around!
Ping me if you are at Interactive @eortiz (Twitter).
ceo