Microsoft has joined the physical world connection/interactions space with its release of their High Capacity Color Barcode (HCCB) called Microsoft Tag, a new 2D Barcode technology developed by Microsoft research that competes with QR Code, Datamatrix and other 2D barcode technologies.
Comparing Microsoft Tag to QR Code:
Microsoft Tag uses colors and triangles vs. black and white and squares, and it support Tags that contain URLs, Free Text, vCard, and Dialer type. A time-to-live or time-frame can be associated with it the tag, which is useful for marketing campaigns.
I'm a big fan of the new kinds of interactions that are possible via visual and radio tags; related to this see my presentations (SlideShare), and related pages on my blog: Physical Interactions and Touch/NFC.
The Microsoft Tag Video (YouTube):
Creating and Managing Tags
Microsoft tag is an end-to-end solution: the Tags, the software on the handset, and the software on the web that allows you to create and manage and print your own tags; see below.
Creating a Tag (Click to enlarge):

Managing Tags (Click to enlarge):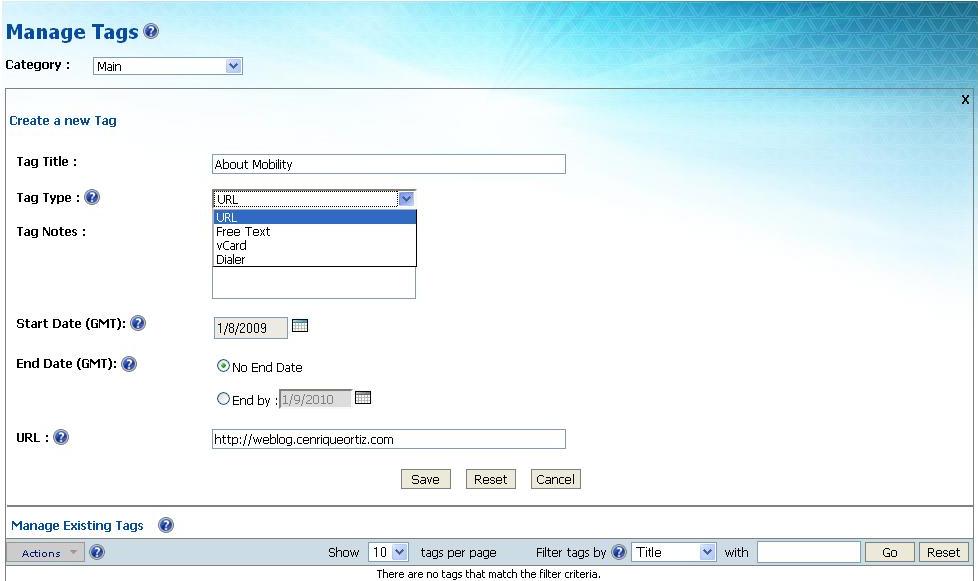 This is the Tag I created of type URL to my blog:


Downloading Microsoft Tag
You can download the Microsoft Tag reader client directly to your phone: Android and PalmOS (coming soon), BlackBerry, Symbian S60, Windows Mobile, Sony Ericsson and other J2ME devices, by pointing your phone to gettag.mobi website.
Is there a need for a new Visual Tag?
Tags such as QR Codes are high capacity tags already:
(from Wikipedia)
Numeric only Max. 7,089 characters
Alphanumeric Max. 4,296 characters
Binary (8 bits) Max. 2,953 bytes
Kanji/Kana Max. 1,817 characters
But as @torgo Tweeted back:
"…But do we really need a new 2d barcode? What exactly is the problem with QR?"
And @adamcohenrose wrote:
"I thought QR codes had no licensing problems?"
I don't buy "capacity" as the reason Microsoft introduced its own tag, but perhaps is because "they just can", or maybe related to licensing; while QR Codes are considered open, QR Codes are patented, but the patent is not being enforced (at this moment). Another reason is that the color-based, triangle tags provide for better "fiducials", allowing for faster alignment and scanning thus better experience; this I need to test to determine.
ceo