Back in April 2008, around a year after the introduction of the iPhone and Android, I wrote a piece on my blog on the Reasons Why The Mobile/Wireless Usage Boom was Underway, where I introduced the diagram below that highlights the convergence between the mobile lifestyle, advanced handsets and the state of the networks: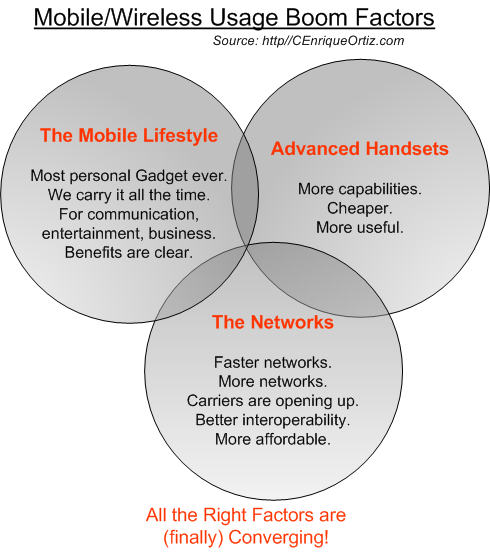 Here I argue that such convergence is the basis for the adoption we see today…
But why is that? For years I have focused on "application richness" as a key reason; software that extends and enhances the hardware by providing services and useful utilities, and the richer user experience and functionality the wider the adoption. And for years the topic of native vs. web mobile apps have had continued and while the promise and vision of rich web applications continues to move forward, albeit slowly, native applications have lead the way.
The answer is that (regardless of technology) it is about "monetization" and business models, and mobile is no exception. And that technology is *the* great facilitator to deliver this. After reading Mike Rowehl piece on Opening Up Mobile Monetization, which he wrote in response to John Arne Sæterås' blog Mobile Web vs. Native Apps. Revisited, I agree that technology and application richness and user experience all by itself are not sufficient, and again, that technology all by itself is just a facilitator, and that business models play a key role.
I've to say though, that we have come a long way since I wrote Open ecosystems, closed ecosystems, and the reality of things back in 2006; a post that also refers to another related blog by Mike Rowehl; as you can see, we have been arguing the issue of ecosystems and openness for many years now.
So my diagram above on converge and adoption needs an tweak/update, to include the missing piece that glues it all together — the business models which is the main driver that powers it all.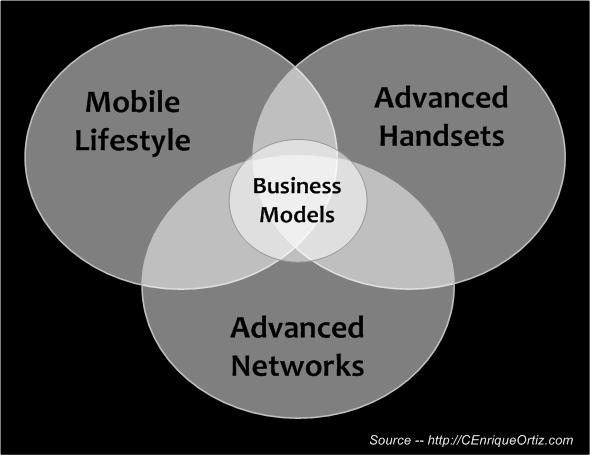 As I write on My Vision page:
But what has been happening is that three related areas of mobile have been converging over the last decade: 1) the mobile lifestyle where the mobile handset is such a personal social gadget part of our daily lives, 2) the advanced smartphones that provide applications both web and native as never before and 3) the advanced, faster, more reliable and accessible networks that allows for always-on connectivity — all converging closer with business models at the center that promotes a healthy ecosystem.

In this ecosystem we have consumers and we have businesses, some that focuses on creating handsets, others on networks, while others in software services (platforms) and applications. All benefiting — the consumers via improved experiences and businesses via the ecosystem business models. It is this convergence that have enabled the momentum and ecosystem that we are currently seen.
The business models are driven by the ecosystem. And by ecosystem I mean real ecosystems that allows different entities to participate in ways that simplifies trade, the ability to easily author, publish and sell software/applications, on top on other software and infrastructure, benefiting all — the consumer and the "providers".
The application store showed that the original carrier-based deck was an issue. Even though a business model existed back then, it was flawed. Not a true ecosystem it shows why it was so easy for application stores to lead and show the way. Today the success of application stores is starting to show their weaknesses; thousands and thousands of applications mean finding one is like looking for a needle in a haystack. But discovery today is leaps and bounds better than before; and I am sure better ways to discover will be created.
Back to my convergence diagram vs. adoption above, let's look at some support data:
On Handset Data Traffic (and Advanced Networks)
Source the Silicon Ally Insider — The above chart shows the consumption of handset data traffic, which correlates to the mobile lifestyle and its relationship to advanced networks behind.
On Advanced Handsets
Source the Silicon Ally Insider — The above chart shows the growth in the adoption of advanced mobile handsets which correlates to the relationship between mobile lifestyle as driver (and relationship) to advanced handsets (and decline of feature-phones).
On Applications (and Business Models)
Source the Silicon Ally Insider — The above chart is about the business model and it shows the growth in the adoption of native applications; see the increase in just one year. This chart shows how the creation of native (rich) applications have increased, in my opinion, thanks to the true ecosystems as allowed by app stores which have facilitated the creation and publishing of applications and the resulting revenues from such software applications economy (business models). Would we see a similar growth once such economy is available for mobile web applications? Or is "application richness" a factor as well? While business models that benefits all in the ecosystem must exist for all this to work, application richness is a secondary factor that certainly drives excitement and adoption.
So It Is Happening
It is great to finally see "the vision" being realized, in large part thanks to Apple and Google who helped shift control and focus into the ecosystem, open systems, the developers and applications. The result has been a tremendous amount of innovation in a relatively short amount of time
ceo