(Image source: NASA)
---
Update #2 – The space race is on, and this time it is to be led by Entrepreneurs
Wonderful to see the successful SpaceX mission — from launch, to docking, to return and splashdown! This is the future of nearby-space travel. Entrepreneurs such as Elon and their teams are the future of space flight, including manned space flight. Expect private commercial companies taking the lead on space missions to low-orbit for research, including medical research, and for mining, as well as travel to space stations, while NASA continues helping such private companies with research and funding, while continuing their work on inter-planetary space flight. Yes, two totally different beasts: low-orbit or nearby-space flight (to be led by private/commercial companies) and inter-planetary flight (government/NASA led) both require different kind of research and budgets. I am once again super excited and have hope for the USA space program. Godspeed.
---
Update #1 – Launch has been Scrubbed; try again in a few days
May 19. Launching rockets is a risky business. The launch was scrubbed apparently after ALL (9) engines fired and just .5 seconds before actual liftoff. The software detected a malfunction on one of the engines, and decided to shutdown the engines. First, this is pretty awesome; the software did what it was designed to do. Note that you cannot scrub a launch like that if using Solid Rocket Engines (SRBs) – once lit, rocket must go, like it or not, engine failure or not. SRBs are powerful but can be dangerous. For man-rated vehicles I rather stay away from SRBs.
Elon Musk, SpaceX founder and CEO, wrote on Twitter:
"Launch aborted: slightly high combustion chamber pressure on engine 5. Will adjust limits for countdown in a few days."
I wonder the rate of execution of the software that checks the engine status. On the Space Shuttle it was around 25 times a second but with today's much faster and powerful processing capabilities, it can be many times more.
The launch scrub seems to related to "pressure limit values" used by the software vs. actual engine problems. In any case, in the space business there is no room for failure, and everything must be checked and rechecked (and redundant).
The next launch window to the space station is May 22 at 3:44 a.m. EDT.
Below is Elon's view of the mission control consoles at SpaceX HQ in California (very cool!):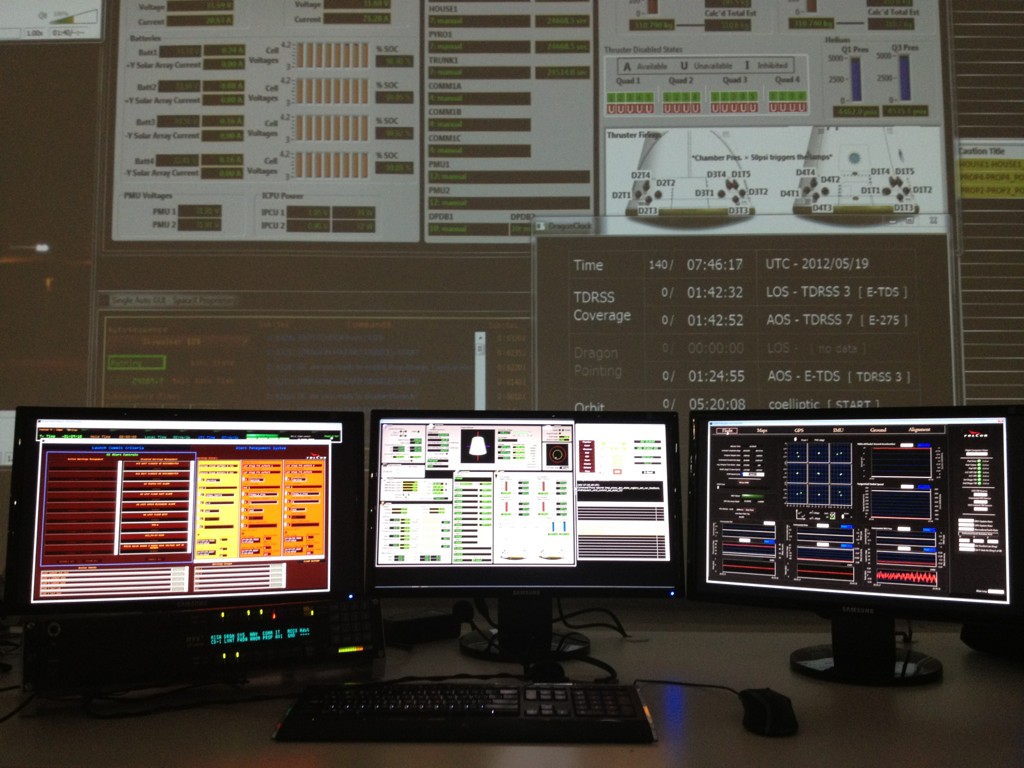 ---
Original Post
Tomorrow May 19, 2012 at 4:55 AM EDT, SpaceX launches its Falcon 9 rocket carrying their Dragon space capsule on its first trip to the International Space Station (ISS).
This is a historic event as it is the first time a *private commercial company* launches a rocket to the ISS.
The private space sector with companies such as SpaceX, Blue Origin, Armadillo Aerospace and the others, are the future and saviors of the USA manned space program.
Rocket launches are super exciting, especially these "first" launches, and especially for those involved. I was lucky to have a similar experience back in 1995 when I was in Houston working on the Space Shuttle (avionics onboard software), and on the mission / first trip of a Space Shuttle (STS-71) to the Russian space station MIR.
Launching a rocket into orbit, safely, is one of the hardest things to do; and launching a man-rated vehicle is even harder. Very few attempt such endeavor, and even fewer are able to accomplish such magnificent feast of successfully bringing together such a complex mix of specialized hardware and software.
Today on my G+ I read this quote by Mark Stone, which I found very appropriate:
"Forget the silly FB IPO; SpaceX launch is the most significant tech event of this week!"
Godspeed!
ceo