Happy Holidays — Mobile Monday Austin Dec 2012 Social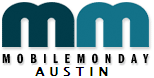 Happy Holidays!!!
Mobile continues to thrive in 2012 and we in the industry look forward to another prosperous year. As you are running around to make final deadlines, socialize and prepare for the holidays, come take a little break and join your fellow MoMo folks to celebrate. The Austin Mobile Monday crew would like you to join us for an impromptu informal holiday gathering at the Driskill, Monday December 17th in the bar/lounge from 6-8pm. We will have some apps and cocktails to share some holiday cheer. Libations and spaces are limited, so please RSVP by this Friday 12/14.
See you all at the event!