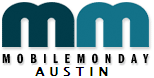 Join us for our October 2012 Mobile Monday Austin meeting, at the very cool Capital Factory offices in downtown Austin.
We are having a number of cool companies come talk about "Mobile and Cloud":
* Cloudbees — CloudBees Platform as a Service (PaaS) architecture provides a powerful foundation for cloud development and deployment services.
* Twilio – provider of Cloud platform for Communications – APIs for Voice, VoIP and Text …
* Phunware – provider of branded mobile experiencesand mobile application infrastructure.
The speakers will cover related topics including using cloud-based Jenkins to build and test Android and iOS apps, using the Twillio APIs, and leveraging the cloud to end the native vs. html5 debate – introducing Mobile as a Service.
It is going to be a fun topic and event.
When: Oct 22, 2012
Time: 6-8:30pm
Where: Capital Factory
Cost: free
Drinks and pizza will be served
For information and headcount purposes, please visit & RSVP: http://momoaustinoct2012.eventbrite.com/
See you all there….