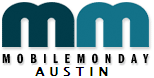 Please join us April 30 for our next event when Nokia visits Austin for its "Nokia Lumia USA Tour"
WHEN: April 30, 6-9pm
WHERE: Buffalo Billiards, 201 E. 6th St.
WHO: Mobile Monday Austin & Nokia
Please RSVP at Eventbrite: http://momoaustinapr2012.eventbrite.com/
If you have a Windows Phone application, Nokia Developer wants to see your app – visit http://www.mobilemondayaustin.com for more information.
Drinks and appetizers will be served. Nokia is giving away 2 Nokia Lumia 800's, plus other! For more information, visit the Mobile Monday Austin website.
Also see our new Facebook Page!
See you there…
ceo