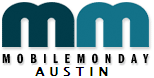 I posted at the MobileMonday Austin website information about the next event…
Please note that seating is limited; please register and reserve your seating and enter the raffle to win a new Nokia N8. For registration and more information, please visit the MobileMonday Austin website at http://www.mobilemondayaustin.com/.
---
The event is sponsored by Nokia and the 2010 Calling All Innovators North America developer contest, presented by Nokia and AT&T.
---
Topic: Mobile Applications and Connected Devices — New Nielsen Company research on the changing media consumption landscape
When: November 1, 2010 | 5:30pm – 8:00pm
Where: Cool River (4001 W Parmer Ln, Austin, TX 78727-4105)
Come listen to the Nielsen Company present new research on Smartphones, Tablets and the new Application economy. Information in this session will address:
Growth of Smartphones, leading platforms and a look forward
Behaviors and preferences of mobile app users
Which apps are people using and why?
How much are downloaders' willing to pay?
Overall look at tablets, e-readers, media players and netbooks – how are users consuming media on these devices?
How do tablet users respond to advertising versus smartphone owners?
What do media companies need to consider when launching tablet and smartphone content?