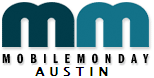 Wow, what a great MobileMonday Austin event we had last Monday Feb 22. With around 120 people attending, a great agenda and speakers, and a good time, it is safe to call the event a success. The opening by David, the demos by the various companies and the panel on Monetizing Mobile Apps moderated by Stacey was all great, diverse and well balanced.
A big thank you to our AWESOME sponsor Skyhook Wireless and special thanks to Kate and Ronda and Ted. And a big thank you to our speakers:
Ted Morgan, Skyhook Wireless
David Gill, The Nielsen Company
Stacey Higginbotham, GigaOM
Frank Hanzlik, Dell
Lance Obermeyer, Digby
Alan S. Knitowski, Phunware, Inc.
Michael Agustin, Gendai Games
Josh Williams, Gowalla
Larry Upton, Edioma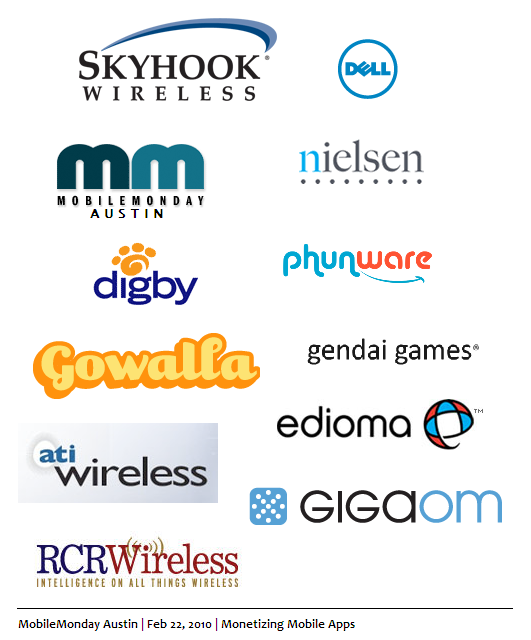 And thanks to Dell for the notebook-mini giveaway and to the Austin Wireless Alliance/ATI Wireless, RCR Wireless News and the Austin American Statesmen for helping spread out the word about the event. And of course thanks to all the attendees.
Next
Next is SXSW Interactive on March 12-16; hope to see you all there. On Saturday March 13 I will be running the Wireless Future15, don't miss it!
And the next MobileMonday event is on March 15, 2010; the registration form is already up at http://www.mobilemondayaustin.com. Stay tuned by visiting the MoMo Austin website and this mailing list for further details.
ceo