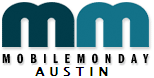 Mark your calendars! The next MobileMonday Austin event is scheduled for December 7, 2009, 5:30-8pm.
For this event we will have a number of Central Texas Technology Incubators come in and talk about what and how they help local mobile developers and start-ups. We will also have a local Angel investor present on "Funding Sources". And we will have some local companies demo their mobile products. It is going to be a very interesting and informative event!
---
When: December 7, 2009, 5:30 – 8:00pm
Topic: Central Texas Technology Incubators, Funding Sources and Mobile Apps Demo Night
Agenda:
5:30-6:15 we will start by having have a number of local startup companies demonstrate their products: Ringful, SocialMuse (Android Developer Challenge winner), Trust Nexus, MediaSourcery, AVAI Mobile, Edioma (Larry Upton).
6:20-6:50 or so we will have David Gill from Nielsen Mobile talk about the current state of mobile industry.
6:55-7:25 or so we will have the Central Texas Technology Incubator panel with the Austin Technology Incubator (Bart Bohn), Austin Entrepreneur Network (Hall Martin), Idea Finishing School (Dean McCall), and Tech Ranch Austin (Jonas Lamis), with Erin Defosse, local entrepreneur and past Director of the ATI and AWA, as panel moderator.
7:30-8:00pm we will have Hall Martin of the Austin Entrepreneur Network give a presentation on Funding Sources.
Where: West Pickle Research Building, The Alamo room — see http://bit.ly/4Va4MW
Cost: Free. Pizza and sodas will be served.
Space is limited! To have an accurate headcount, please register by *adding your name* to the "December 7th Event page" at: http://groups.google.com/group/momoaustin/web/mobilemonday-austin-event-december-7-2009
If you are a startup or developer who would like to demo your applications, please send me an email to enrique dot ortiz at gmail dot com.
Thanks to our sponsor, the Austin Wireless Alliance! And to our Speakers!!!
ceo
@eortiz
@momoaustin