This month of May 2011 has been a great month with respect to the Austin mobile scene. Below is a summary of just the events that I help organize or contribute to somehow: Mobile Monday Austin, Android Dev Austin, Google IO Extended Austin, IEEE Austin Chapter. And there are other mobile-related events as well that are organized by others. And look for a cool story about the mobile scene in Austin that is coming out this Sunday May 22nd on the Austin American Statesman.
---
On May 19th (today!) Andrew Donoho and I will be debating native vs. web apps at the IEEE ComSoc/SP Austin Chapter.
The IEEE ComSoc/SP Chapter invites you for a talk on "Future of Mobile Debate".

Talk Abstract:
The speakers have had plenty of discussions with colleagues and friends about native apps, written to run directly on the operating system, versus mobile web app, written to run in a mobile browser. There is no right answer — only questions and positions. This debate, in public and on stage, will refine your view of the choice. There will be many breaks in the debate for you, the judges, to ask refining questions of the participants. This will be fun.
RSVP: http://modeb.eventbrite.com/
Location:
AT&T Labs
9505 Arboretum Blvd, Austin, TX 78759
---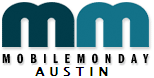 On May 23rd is our next Mobile Monday Austin social; no registration is required. See you on Monday!
Mobile Monday Austin will be holding an informal social this coming Monday, May 23, at 6pm at the Clive Bar downtown. This is an opportunity to mingle with your colleagues in the local mobile community to make connections and share experiences.
Please join the Mobile Monday team for a couple of drinks from 6pm on the outside patio at:
Start: 05/23/2011 – 6:00pm
End: 05/23/2011 – 9:00pm
The Clive Bar
609 Davis Street, 78701
http://clivebaraustin.com/
---
On May 10-11 we had Google IO Extended Austin at the Google offices. It was a good event. I presented on Android 3.0 Honeycomb APIs for the Action Bar, Fragments and Drag-and-drop. I am planning on presenting this same presentation at an upcoming Android Dev Austin event.
---
Earlier this month on May 4th we had a great Android Dev Austin event. We had a great lineup of local Android developers talk about their applications and experiences. Many thanks to Ringtail Design for sponsoring the event. A summary of the event was posted by Ben Dyer at his blog.
---
In Summary awesome month for the Austin mobile scene…
ceo