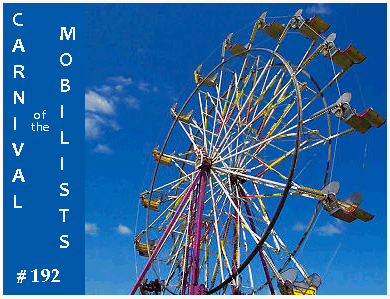 Another week, another Carnival of the Mobilists. It is my pleasure to host once again the Carnival, this time #192!
This week we have great entries on topics that include Opera Mini, Mobile Learning, App Stores, HD voice and Mobile music. So let's begin…
Let's start with Dennis Bournique (the WAP Review) who wrote a very informative entry on "Opera Mini 5 Tips and Tricks". As usual Dennis provides a great review/summary and in this case it includes great tips and tricks. A good read.
Next we have WIPJam with guest Mitch Oliver, vice president of ecosystem development for Qualcomm. Here Mitch writes You're on an app store; now what? – a good background on App Stores, current issues, scenarios and thoughts. Another good read.
Judy Break, our Carnival of the Mobilists goddess, writes a very interesting piece titled Festival may kick-off the handschooling era, where she covers how the mobile handsets and smartphones are transforming learning. I believe in this future in which the mobile handset will play a big role in learning — always on learning.
Our next entry by Mark Hooft gives us a Mobile Learning Round-Up from mobile learning "stuff" to "projects" to "news" — hmm, will textbooks be replaced by their electronic counterparts?
Tsahi Levelt-Levi writes Consumers HD Voice – Where is the Incentive? where he covers the lack of real incentives to move to HD Voice – especially in the mobile domain.
Next we have Volker Hirsh with his piece Mobile to Rescue Music Business!? about the potential impact of mobile on the music business; a well written piece.
The next entry is from a first timer to the Carnival, Dr. Kiran Mudiam, who also is as a guest blogger to my blog (About Mobility) – Kiran wrote an opinion on App Stores.
Our last entry is from Dr. Jim Taylor who wrote an interesting piece titled Psychology of Technology: The Evolution of Connectivity that covers the evolution of connectivity, including the mobile handset.
---
Favorite post of the week:
I have to say that I have 3 favorite posts this week: 1) Volker with his piece on mobile and music, 2) Dennis with his write-up on Opera Mini 5, and 3) Mitch with his piece on App Stores. Congrats to all!
---
Last is a reminder about the Mobile Application Stores Conference at CTIA 2009, organized by fellow Mobilist Ajit Jaokar, and that is happing next month (October) in San Diego.
Thanks for visiting!
Next Carnival is on September 28 at Volker's weblog.
ceo