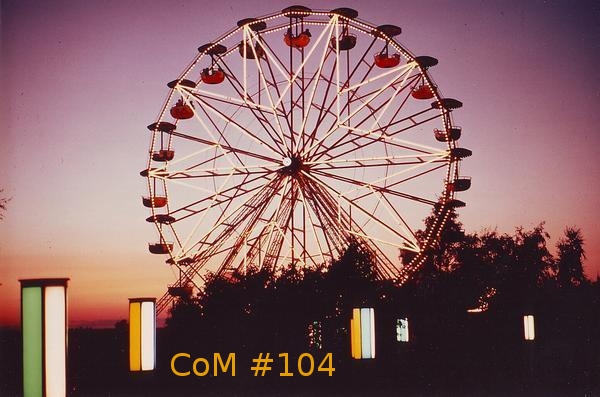 The above photo is of the ferris wheel in Helsinki, source: ashlyfanderson
Welcome to the Carnival of the Mobilists #104!
It is great to be back hosting the Carnival…
This week's Carnival is dedicated to the land of the Finns, where I spent the whole last week.
Some facts about Finland. According to the CIA World Factbook, Finland's key economic sector is manufacturing – wood, metals, engineering, and electronics industries. And of course mobile handsets, and Vodka and Saunas. For the latter, you have to be there to know what I mean :-). With a population of 5,238,460 (July 2007), it has 1.92 million (2006) telephones lines in use, and 5.67 million (2006) mobile cellular phones in use (now, that is penetration). Other facts include 2.323 million (2007) Internet hosts, and 2.925 million (2006) Internet users.
The Carnival of the Mobilists #104
This week we have entries from Martin Sauter, Dennis, Jim Hughes, Tarek Abu-Esber, Ajit Jaokar, Dan Lewis, Steve Litchfield, Jaclyn Epstein, Keving Flemming, Howard Rheingold, and truly yours, me.
Let's begin… My friend Martin Sauter of WirelessMoves writes a very interesting piece titled Bit Pipe or Profiting from the Long Tail? where he covers the long-time mobile operators dilemma of being a bit pipe or more, specifically service providers, and its relationship to the Long Tail. He writes "So now look at mobile operators: Selling bandwidth is nothing but making money with the Long Tail of the web. Sounds a lot better than 'bitpipe', no?"
Dennis of the WAP Review writes about mPoria – Mobile Mall, where he covers mPoria, where "real merchandise can be purchased using your phone and delivered by UPS or FedEx to your home or office". As usual, Dennis writes a very good product review.

The above photo is of Helsinki and its Cathedral, source: http://blog.arendsen.net
Jim Hughes at Feet up! writes Google Maps, give us the data! where he covers his experiences running Google Maps for Mobile on the E61, but most importantly Jim points out that Google is building a huge database of mast locations with everyone's help, and that such data should be made accessible to others.
Tarek Abu-Esber writes Mobile Device Testing Products And Services, where he covers new services for developers for testing their mobile applications. Tarek covers Device Anywhere, PACA Mobile Center, Nokia Services, and other; a good resource for developers.
Ajit Jaokar of the Open Gardens blog writes Mobile browser plug-ins: The browser as a platform la Facebook platforms, where he covers the idea of mobile browser plug-ins. Ajit writes "If browser plug-ins take off, then the browser becomes a platform much like the Facebook platform."
Dan Lewis of Skydeck writes Is one cell phone enough?, an interesting piece that covers stats on why people carry multiple handsets, and very importantly, the implications for estimates of cell phone penetration. A good read.
Steve Litchfield of All About Symbian writes Taking storage for granted and 'The Importance Of Backups' part 362, where he writes about backups… You have been warned; when was the last time that you backed up your data? 🙂
John Puterbaugh of Nellymoser writes 2008 Predictions, his expectations for 2008.
C. Enrique Ortiz, of the About Mobility weblog writes The killer Mobile-Desktop combination, where I cover the use-case of leveraging the desktop to enhance the mobile experience.
Our last entry by Howard Rheingold of SmartMobs is Tim O'Reilly on open mobile where Howard covers some interesting remarks by Tim O'Reilly on his letter to the New Your Times. Check it out.
My favorite piece for this week is Martin's Bit Pipe or Profiting from the Long Tail?
Thanks for reading the Carnival this week. Note that this week's edition is the last for 2007, and that first CoM of '08 will be at Paul R. Ruppert's Mobile Point View blog.
The Carnival of the Mobilists founders, organizers, hosts, bloggers and all participants wishes you a happy and save Holidays and a great New Years!
ceo