Welcome. My name is C. Enrique Ortiz (aka CEO). My professional focus is Product Development, next generation mobile and cloud software, platforms and APIs. I'm author or co-author of two books on mobile development (J2ME and Android), hundreds of articles and presentations and a number of patents.
A long-time Mobilist, for fun and profit and family man, I started my career as an on-board Space Shuttle software developer who decided to focus on mobile technologies rather than working on dangerous rockets.
As time permits, I like to write/share my interests: end-to-end mobile software, platforms and APIs, the mobile context and implications on the user experience, embedded and connected machines/software, intelligent machines/software, flying machines/software, the space program.
Checkout my cool project (with Juan Salas) called Kloc.me – Effortless and beautiful portfolio websites for developers.
Views are my own. All content and opinions in this weblog are mine and do not necessarily represents the opinions of my employer or customers, friends and family, followers or others.
I work at GFR Media.
---
Specialties: Product innovation, product development, product management, end-to-end software design & development, Java coder, HTML5/CSS/JS, all things Mobile, Cloud-technologies, operations, go-to-market, technical papers and articles.
Contact me if you need help with anything Mobile…
---
Organizer
Mobile Monday Austin
Android Dev Austin
2014 American Freestyle Open
Founding Trustee Austin Awesome Foundation
Author
Android in Action, 3rd edition (2011)
Mobile Information Device Profile for J2ME (2001)
Hundreds of articles and presentations
Mobility Weblog
A number of patents
Patents
Systems And Methods For Indoor And Outdoor Mobile Device Navigation (Provisional)
Unified Services Platform Using A Telephone Number As A Common Subscriber Identifier (14087768)
Mobile presentation system (US20020147749)
File list processing (US6484157)
File transfers using playlists (US6026439)
Projects
Kloc.me – beautiful portfolios for developers
Advisor
The Austin Technology Incubator
SXSW Interactive
Various startups
---
Back in 2007, as CTO and co-founder of eZee Inc, we had the following vision on Mobile Coupons and Payment (too early to market)
---
My Space Shuttle Days
Early-mid 1990s — Space Shuttle's Onboard Software (FCOS/UI/SC) development and mission support at the Mission Evaluation Room (MER) — "In God we trust, all others bring data".
Receiving my Silver Snoopy Award from Astronaut Hoot Gibson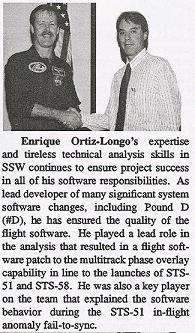 ---
My Info
* Blog | http://MobilityWeblog.com
* Twitter | @eortiz
* Mobile: +1.512.410.0236
* About Me (CEnriqueOrtiz.com)
* Email: "enrique.ortiz at gmail dot com" or via SMS/text message by scanning the QRCode below: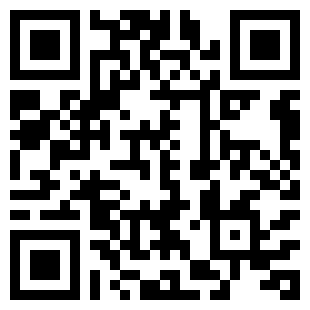 You'll need a QR reader installed for scanning; below are some readers:
For legal stuff, see my Legal page.
---
Some Interviews
(Pardon me if some of the links need update — you know, the web moves, at times links break)
---